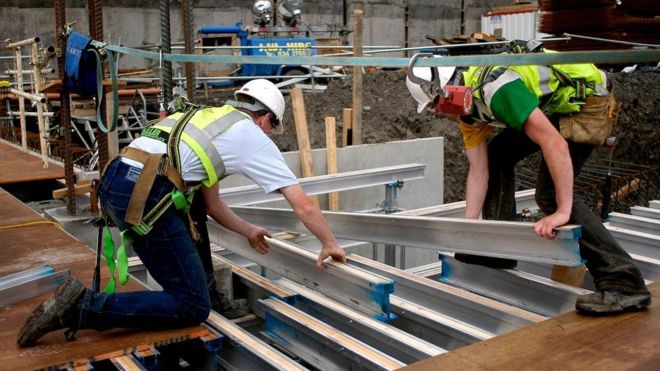 The UK's economic growth has been revised up for the first quarter of the year after construction data was found to be stronger than earlier estimates.
The pound jumped as speculation grew about the possibility of an interest rate rise later this year.
Against the dollar, sterling was up 0.8% at $1.3181 in afternoon trade.
Rob Kent-Smith of the ONS said: "GDP growth was revised up slightly in the first three months of 2018, with later construction data, and significantly improved methods for measuring the sector, nudging up growth."
Separate data from the ONS
showed that the key services sector - which accounts for about 80% of the UK's economy - grew by 0.3% in April, the fastest monthly rate since last November.
'Cautiously upbeat'
Last week, the Bank of England kept UK interest rates on hold at 0.5% but signalled that an August rate rise was more likely than previously thought.
At the meeting, the Bank's chief economist, Andrew Haldane, joined two other Monetary Policy Committee (MPC) members in voting to raise rates to 0.75%.
Following the latest growth figures from the ONS, Ruth Gregory at Capital Economics said: "We remain cautiously upbeat about the economy's near-term prospects and continue to think that the MPC will press ahead and raise interest rates at its next meeting on 2 August."
However, economists also noted that the figures contained some worrying signs. Household spending increased by a modest 0.2% over the quarter, and the household savings ratio fell from 4.5% to 4.1% - the third-lowest quarterly ratio since records began in 1963.
The savings ratio for 2017 as whole was 4.1% - a record low.
In addition, business investment shrank by 0.4% - worse than the previous estimate of a 0.2% contraction.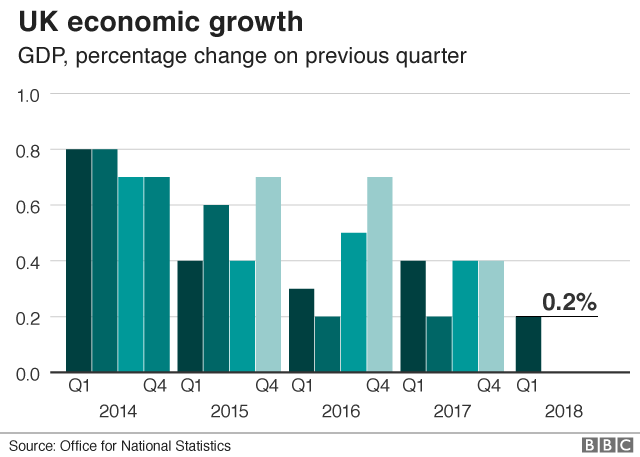 John Hawksworth, chief economist at PwC, said: "We expect UK GDP growth to pick up slightly to 0.3-0.4% in the second quarter of 2018 and to average around 1.3% in 2018 as a whole."
Samuel Tombs at Pantheon Macroeconomics said he expected the economy to expand by 0.3% in the second quarter, with the Bank of England waiting until early next year to raise rates again.
However, the ONS also revised down its estimate for economic growth during 2017. It now says the economy grew by 1.7% last year, the weakest rate since 2012 and down from an earlier estimate of 1.8%.


Analysis
Andy Verity, BBC economics correspondent
The government borrows money to top up its spending. Cue years of austerity. Households borrow more to top up their spending. Cue the sound of no-one falling off their chairs. Why have we spent nearly a decade fussing about the former - and ignoring the latter?
After all, if you want to know what affects you more directly - the government's deficit, or your own - there's no argument. Remember that pre-2015 election idea - everyone should have a pay rise? Well if you're average, you didn't get one until very recently.
Official figures released today
show real household disposable incomes fell in both 2016 and 2017 - despite tax cuts such as higher personal allowances. And because he was outspending his income, Joe Public had to borrow more to make up the difference. As a proportion of income the amount saved was at its lowest on record in 2017 at 4.1%.
The official statisticians now think we households had to borrow more to top up our spending than previously guessed - about £5.8bn between us in the first quarter of the year.
More austerity for households isn't exactly an appealing message. But there is another way. Now, about that pay rise…