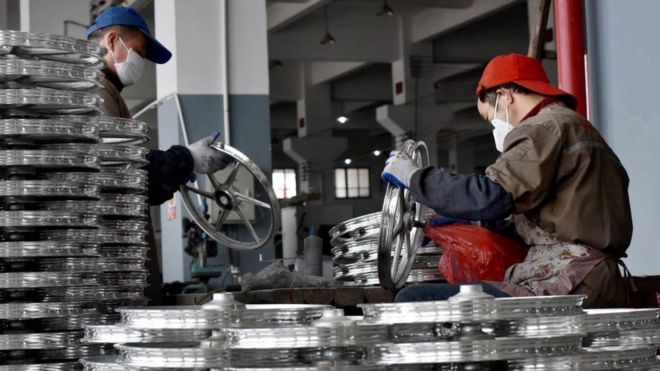 China has set its 2018 economic growth target at "around 6.5%".
But it is below the 6.9% reported for 2017 - the first time in seven years the pace of growth picked up.
The report also said China would clamp down on the kind of financially risky operations which have threatened to cause the collapse of major firms.
Several other high-profile operations are also having their finances scrutinised by Beijing.
China is now the world's second largest economy, but a reliance on borrowing has led to pressing political concerns about debt risk.
As expected, the report delivered by Premier Li Keqiang said reining in this risk would be a key policy for the coming year, promising to "see that internal risk controls are tightened in financial institutions" and a "serious crackdown on activities that violate the law like illegal fundraising and financial fraud".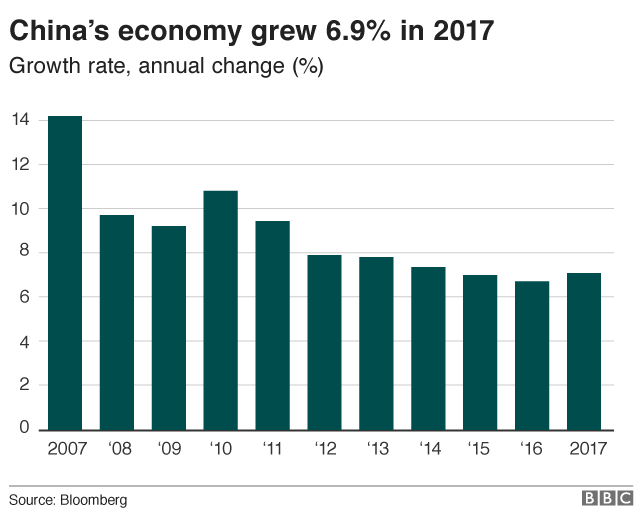 'High-quality development'
While many China watchers still believe the GDP numbers are much weaker than the official figures suggest, the country is a key driver of global growth.
It has relied heavily on debt-fuelled investment and exports to drive its growth of the past four decades. But Beijing is now focussing on slower but more sustainable consumption-based growth.
The report added that the unchanged growth target was "fitting given the fact that China's economy is transitioning from a phase of rapid growth to a stage of high-quality development" and would allow it to "achieve relatively full employment".
Other goals mentioned in the report included:
Achieving inflation of 3%
Cutting overproduction, including reducing steel capacity by 30 million tonnes and coal by 150 million in 2018
Reining in pollution
Reducing poverty
The report said that China's economics and financial risks were "on the whole manageable".
Its debt has risen significantly in recent years, with worrying numbers around corporate and household debt and non-performing bank loans.
Local government debt grew 7.5% percent last year to $2.6 trillion, according to figures in January.
It said Beijing needed to concentrate less on growth and instead help improve banks' finances, among other efforts