By
Jihen Laghmari
and
Samer Al-Atrush
Tunisia's finance chief is unusually cheerful. Looking at the numbers, it's hard to see why.
On nearly every economic indicator that matters, the North African nation is worse off than before the 2011 overthrow of its dictator, Zine El Abidine Ben Ali: Inflation is higher, growth lower, the deficit wider, and unemployment at chronic levels still dogs a youthful population.
"Indicators in themselves are meaningless if you don't put them in their dynamic context," Finance Minister Mohamed Ridha Chalghoum insisted in an interview last week at his ministry in the capital, Tunis.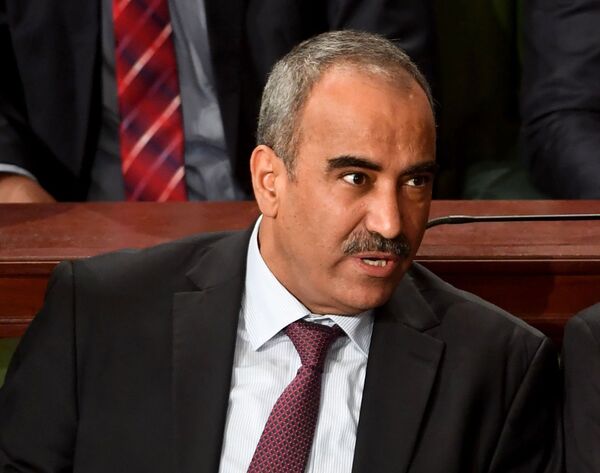 Photographer: FETHI BELAID/AFP/Getty Images
While conceding that the outlook was rosier back in 2010, he pleaded special circumstances when considering Tunisia's woeful economic figures: "You can't treat them like you would numbers in a country going through a normal situation."
In truth, Tunisia's circumstances are anything but normal. From the southern mining heartland to the streets of the capital, where schools shut for weeks on end, the protests that accompanied the revolution have never stopped. As the country prepares for elections this year, the struggle for Tunisia's economic survival will dictate its future path.
Hope Ignited
How Tunisia manages popular discontent has consequences for a chronically unstable part of the world with no good example of functioning democracy. It was a Tunisian street vendor, beset by economic despair and police repression, who set himself alight in late 2010, touching off uprisings that toppled dictators from Egypt to Yemen and raised hopes of a brighter future among young populations.
It hasn't turned out that way. In Yemen, Syria and Libya, protests gave way to civil wars that have sucked in foreign powers and killed and displaced millions. In Egypt, the freedoms won in those early days of protest have been rolled back. Only Tunisia still stands, through its difficulties, as proof that a peaceful transition from dictatorship is possible in a region that knows little else.
"If it doesn't work here, it won't work anywhere," said Michael Ayari, the International Crisis Group's senior analyst for Tunisia.
Tunisians on all sides of the political divide see 2019 as a potentially decisive year. The elections in October are raising pressure on the government to offer economic giveaways at odds with a four-year $2.9 billion International Monetary Fund program launched in 2016.
Income Divide
The economic divide that is compounding voter anger is on evidence in the capital, where the country's elite sip French and local wines in a chic fish restaurant while dining on Tunisian delicacies alongside foreign bankers and diplomats.
Across town, in a run-down former French police station, the head of the nation's powerful UGTT labor union tears into the government in 10-minute diatribes for its failure to convert democratic advances into prosperity. On a table outside his office, the latest edition of the union's newspaper depicts Tunisia's Prime Minister Youssef Chahed as a puppet, his strings held by IMF Managing Director Christine Lagarde.
"All the numbers for this government are very weak and there is a regression that is unprecedented in Tunisian history," said the union's president, Noureddine Taboubi. "If there are political reforms, our role would be to bring people and different points together, but we won't just sit there and watch as Tunisia falls day after day."
That's a warning worth heeding from a group whose more than 700,000 members, social clout and willingness to strike make it both an anomaly in the Arab world and a determining factor in Tunisia's economic and political future. The union shared the Nobel Peace Prize for bringing Tunisia back from the brink of civil war in 2013.
Imported Biscuits
The UGTT and Chahed's government are at loggerheads over a wage increase that Taboubi says is justified by soaring inflation and a 40 percent depreciation in the dinar. He rejects accusations the demands are unreasonable, saying the government is to blame for running up a trade deficit. "You opened your borders to Turkey and other countries for goods we have no need to import," he said. "We import chocolates and biscuits and I don't know what."
While it has managed to avoid the violence that engulfed Libya or Syria, Tunisia's transition to democracy has been marked by a fight against terrorism and political feuding -- between Islamists and secularists, unions and government, the old guard and the new -- that has thwarted efforts to cut spending and revive the economy.
The country has had eight governments since 2011 -- more than two years in office, Yousef Chahed is now the longest-serving post-revolutionary premier. He has the backing of Ennahda, Tunisia's main Islamist party and a force at the ballot box, but has split with President Beji Caid Essebsi and formed his own party.
"The problem in Tunisia is politics have advanced but the economy has not," said Rashid Ghannouchi, head of the Ennahda party. Tunisians "expect better," yet at the same time, voters are not so disaffected as to want to turn back the revolution. "The Tunisian is angry but not to the extent of 'I'm prepared to turn the page and return'," he said.
Saudi Loan
Finance Minister Chalghoum remains outwardly undeterred at the challenge. He outlined a vision for the economy that combines good luck in the form of lower oil prices with hard work, investment in sectors like textiles, vehicle components and chemicals, along with austerity under the IMF program. The government will reduce its budget deficit to 2.4 percent of GDP by 2021 from 6.1 percent in 2016. Then it'll tackle the trade deficit with improved tax collection, a broader tax base, better tourism incomes and by reviving production that's been depressed since the revolution.
The IMF money is in the coffers, along with a $500 million loan from Saudi Arabia. If necessary, he'll possibly issue another eurobond this year to fill the gaps. Despite all the evidence to the contrary, says he's under no major pressure.
"Even if I'm broke, I'm happy," Chalghoum said. "The idea of democracy is now understood by all Tunisians, and that is a very positive thing that you cannot buy."
— With assistance by Lin Noueihed